ZHIYUN MOLUS X100 PRO Bi-Color 100W COB Video Light, 385g LED Pocket Light 17317Lux 2700K-6500K CRI 95+/TLCI 97+ with Bluetooth App Control AC/DC Power Supply
Product Code:
Molus-X100-Pro
Highlights
Powerful Output & Faithful Rendition
Intelligent Cooling Control
3 Ways to Power You Up
Simplify and Reshape Pro Lighting
Cut Out For Live Stream
ZHIYUN MOLUS X100 PRO
100W Pocket COB Light
Lightweight yet mighty enough, MOLUS X100 is ready to upend your knowledge of COB lights. Thanks to the innovate cooling technology, the compact body enables professional power output, giving you the simplest and most efficient experience ever.
Vintage Style Design
You've never seen a COB light like this. A slim, vintage pocket light that strikes a perfect balance between fashion and utility.
100W Powerful Output
Boasting an excellent combination of portability and pro performance, X100 frees you from traditional heavy equipment with only 385g in a palm size and a stable 100W max output, letting you embrace full creativity. 
Intelligent Cooling Control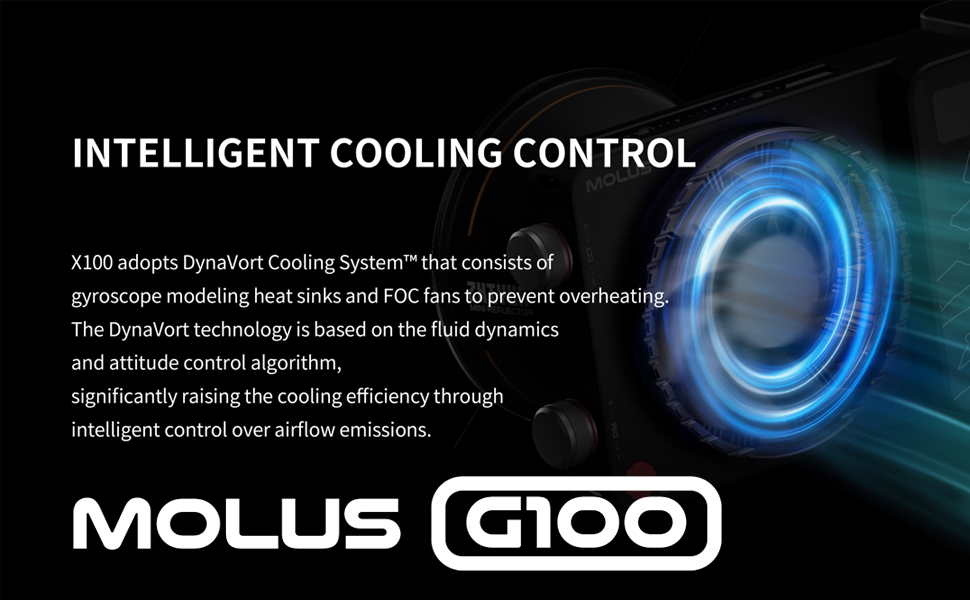 X100 adopts DynaVort Cooling System™ that consists of gyroscope modeling heat sinks and FOC fans to prevent overheating. The DynaVort technology is based on the fluid dynamics and attitude-control algorithm, significantly raising the cooling efficiency through intelligent control over airflow emissions.
Professional Exterior Lighting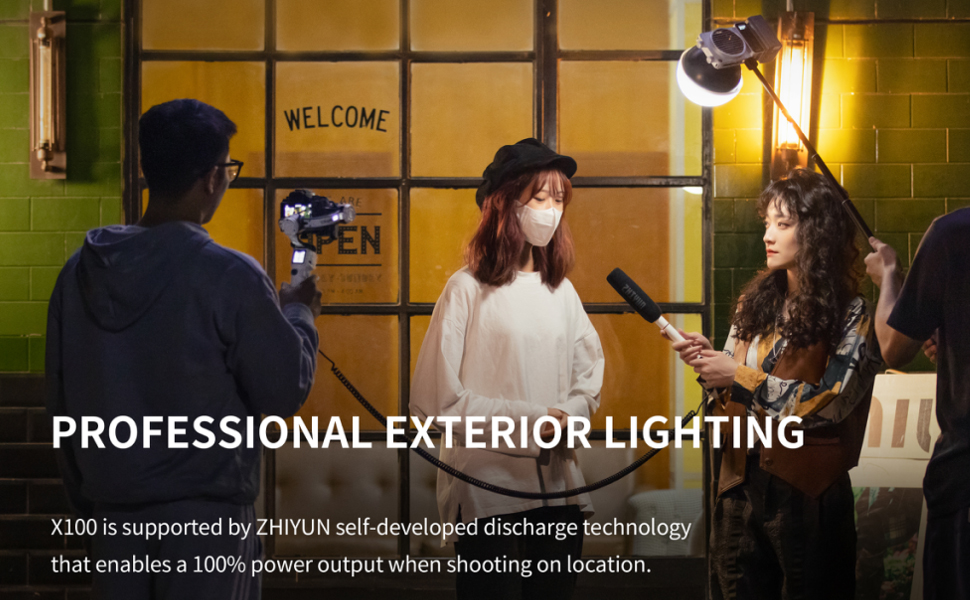 X100 is supported by ZHIYUN self-developed discharge technology that enables a 100% power output when shooting on location. 
3 Ways to Power You Up
The MOLUS X100 utilizes a patent power supply technology to support its 100W mighty output. Being able to choose among the grip battery, DC adapter, and 100W PD fast charge, you'll limit the downtime on your shoot.
* It is recommended to use the DC adapter with input over 100W. The X100 grip battery weighs 440g and is not included in the standard package. The max input power of the battery is 30W. X100 can work for 30min at 100W.
Bi-Color & Faithful Rendition 
Allow you to adjust color temperature at fingertip. Give you accurate fidelity that rivals against traditional heavy COB lights.
Illuminance: 3881 Lux (4300K at 100% brightness)
Color Temperature: 2700K-6500K
CRI≥95,TLCI≥97
*The data is gathered at the distance of 1.0m.
ZY Mount Ecosystem
Diverse Light Shaping Solutions
The ZY mount is designed for dedicated modifiers that also compatible with ones of Bowens mount, satisfying your needs for more fine-tuned effects.
Power supply accessories: power bank(not for sale
),
grip battery, DC power adapter
Light modifiers: ZHIYUN Mini Softbox (ZY Mount), ZHIYUN Mini Reflector, ZHIYUN Dome Diffusion
Extension accessories: Extensional Rod, ZHIYUN Extension Plate, Bowens Mount Adapter (ZY Mount), Mini Ball Head
Storage accessories: power adapter organizer bag, storage bag, pocket light strap
Simplify and Reshape
Pro Lighting
MOLUS X100 challenges the size stereotype of cinematic lighting, bringing you the most lightweight COB light that is powerful and versatile enough to
perform incredibly well
in multiple professional scenarios such as portrait and still-life photography, TVC, and interviews.
Cut Out For Live Stream
X100 answers the calling of short videos and live streams with the clearer footage quality and the more efficient lighting setup than ever, combing with the ZY mount ecosystem to give your work a solid level-up. 
Live Mode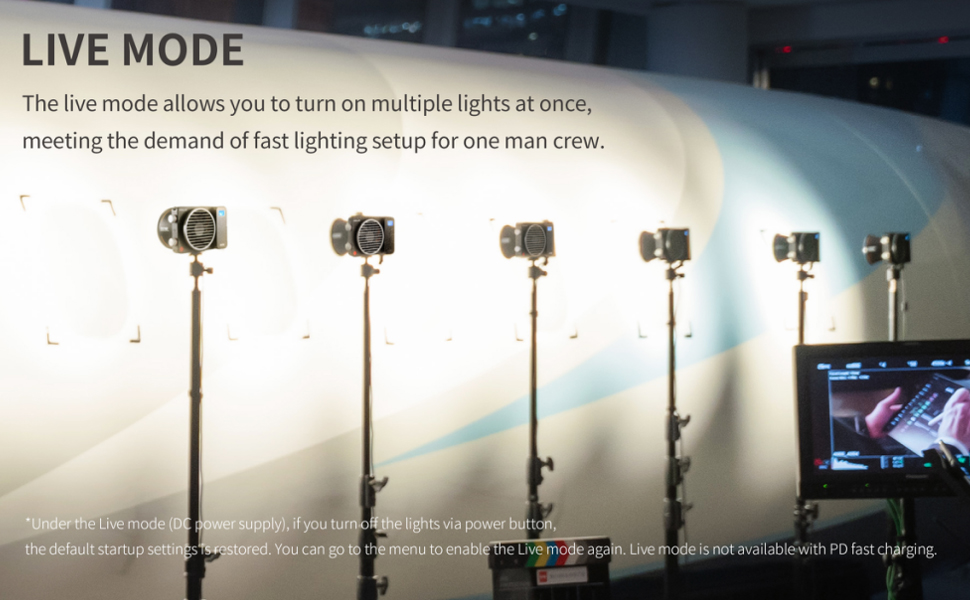 The live mode allows you to turn on multiple lights at once, meeting the demand of fast lighting setup for one man crew.
Music Mode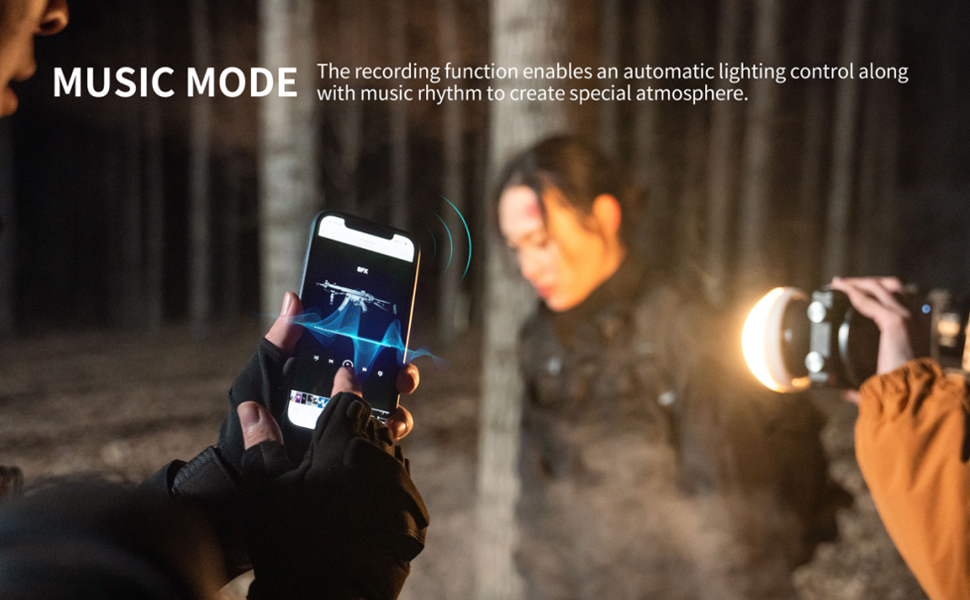 The recording function enables an automatic lighting control along with music rhythm to create special atmosphere.
Bluetooth Mesh
For Remote Control
(not available for prototypes)
Simplify the work flow with the bluetooth mesh to adjust the parameters by group, enhancing the lighting efficiency and convenience substantially. 
Output Power

100W

C

ooling Method

A

ctive Cooling

P

ower Adapter Operation Voltage

AC100V~240V(50/60HZ)

O

peration Voltage

DC 24V,PD ≥9V

PD

Input Power

≥18W

Color Temperature

2700K~6500K

Brightness Adjustment Range

0~100%

CRI

(RA)

≥95

TLCI

≥97

Illuminance In 4300K/100% Brightness (1 meter)

3881

APP

Control Method

B

luetooth

P

ower Supply Method

PD adapter, power adapter, grip battery

Operation Temperature

-10℃~40℃

X100 Grip Battery Voltage

22.2V

X100 Grip Battery Capacity

2600mAh 57.72Wh

X100 Grip Battery PD Charging Time

2H33MIN (19.6V/1.4A 28W ) 

X100 Grip Battery QC Charging Time

2H24MIN (9.7V/3.1A 30W )

X100 Grip Battery Type-C Power Supply Power MAX

30W

X100 Grip Battery Type-C

Charging Power MAX

30W

X100 Grip Battery Runtime

 (maximum power) 

30min

X100 Grip Battery

Charging Temperature

0℃~40℃

PL105

Product Size

144.5*94*36.1

X100 Grip Battery

Size

52.8*94*61

PL105+X100 Grip Battery

189*94*61

E

xtension

1/4

General Threaded Hole

*2
We offer 100% Buyer Protection Policy to our customers. Trust, Relationship & Safety is all what we care about you.
100% Official & Authorized Warranty Products
ZhiyunIndia.com guarantees to sell only 100% official products to customers through our site.
Most of the product sold covers direct ZhiyunIndia.com Warranty & few covers Manufacturer's warranty.
Warranties of the Products mentioned under Box Open Category is also covered by the manufacturer.
 
In-Stock Products
All In-Stock products will be shipped within 2-3 working days.
Please check the availaibility status of the product before buying.
Pre-Order Products
Products mentioned with PreOrder buying status will be shipped once the shipment arrives in india.
Please communicate with us for clarity of the shipping date for PreOrder products before buying.
As the current situation of Lockdown in India the PreOrder products may take a little longer time to deliver at your place.

100% Safety In Payments
Our customer's Personal Data is kept Confidential.
ZhiyunIndia.com does not have access to Customer's Bank/Card information. All payments are handled by PayUmoney Module, which is our official payment gateway.
All Website Transactions are secured and our site is scanned regularly for security. 
Return Policy
Return/Replacement request for any Order should be submitted within 7 days of receiving the Product.
Return/Replacement will be initiated only upon receiving of the product.
Replacement will depend upon the availability of the product.
Damaged/ Missing Packages need to be reported within 1 day of receiving the product.
Order Cancellation
Order Cancellation can be done within 24 hours of the Order Placed.
Order Cannot be cancelled once the product is shipped from our warehouse.
Refunds
Refunds will be done only if the product is unopened & returned by the customer within 7days of delivery & the product is in its origial condition.
Refunds will be no be done for the products which are shipped & later on is not required by the buyer by changing any state of buyers decision.

100% Guaranteed Lowest Prices
As we do direct business from the manufacturer so we can offer the lowest price in the market.
If you see any product price selling lower than us, then Do let us know & we will try to give you as lowest as possible.
No Extra Shipping Fee & Taxes
We Offer 100% Free Shipping to all over INDIA. We Normally Ship all products the same day when its ordered. All Products prices are included of all taxes & duties.
100% Satisfaction Guarantee
If for any reason you're not completely satisfied with your purchase, do contact us & return new gear in its original condition within 7 days of delivery date and we'll give you a refund.