SMOOTH 4 WHITE
Product Code:

ZGFEME

Availability:

Out Of Stock
MOBILE IS NOT INCLUDED
BORN FOR MOBILE FILMAKERS
Zhiyun Smooth 4 turns your mobile phone into a professional film making camera, helping you create
stable and smooth footage with just your phone.The design of integrated control panel can reduce the
need to touch the screen,and help users control both the stabilizer and mobile camera directly with hot
key buttons. Get one now to create your own Hollywood movies with just phones
- Vertigo Shot
- POV Orbital Shot
- Roll angle Time Lapse
FOCUS PULL & ZOOM CAPABILITY
The more professional and delicated handwheel is built in Smooth 4, bringing you the unprecedented
experience of smooth operation.You can zoom in or out as you want to take close-up shots.By pressing
the FN switch button,the handwheel is configured into a focus puller,helping you achieve high precision
focus changes in real time to create creative shots.
PHONEGO MODE FOR INSTANT SCENE
Like a high-end sports car,Smooth 4 can enter PhoneGo mode and release the potential of motors in a
flash.It can respond to every delicate movement without delay without the need to worry about losing
any shots.What's better is that amazing scene transition can be achieved in your footage without post
processing.
TIME LAPSE EXPERT
Smooth 4 supports all kinds of advanced shooting techniques.It can realize features such as Time lapse
moving time lapse and Motion lapse recording lives and displaying the art of time flow.
FREESTYLE TIME LAPSE
With so many time lapse with freer settings on shooting ranges (wide to tight), angles and focus, you
can customize unique-style time lapse footage, capturing all movements and objects including huge
crowds, dancing flowers, moving silhouette or white cloud in the air. Creating a different time flow in
your phone or capturing lives in a retrospective light, it's all up to your imagination.
TIME LAPSE MOTION LAPSE HYPER LAPSE
Smooth 4 makes deep optimization on Time lapse and supports all kinds of advanced shooting
Techniques .It can capture more details from a broader perspective easily overlooked in daily lives.
Smooth 4 can produce smooth footage and also track objects including but not limited to human faces
with much higher precision. You can frame the object you want to track on the screen, and the stabilizer
can do the rest. Shooting has never been so easy, but now we have Smooth 4!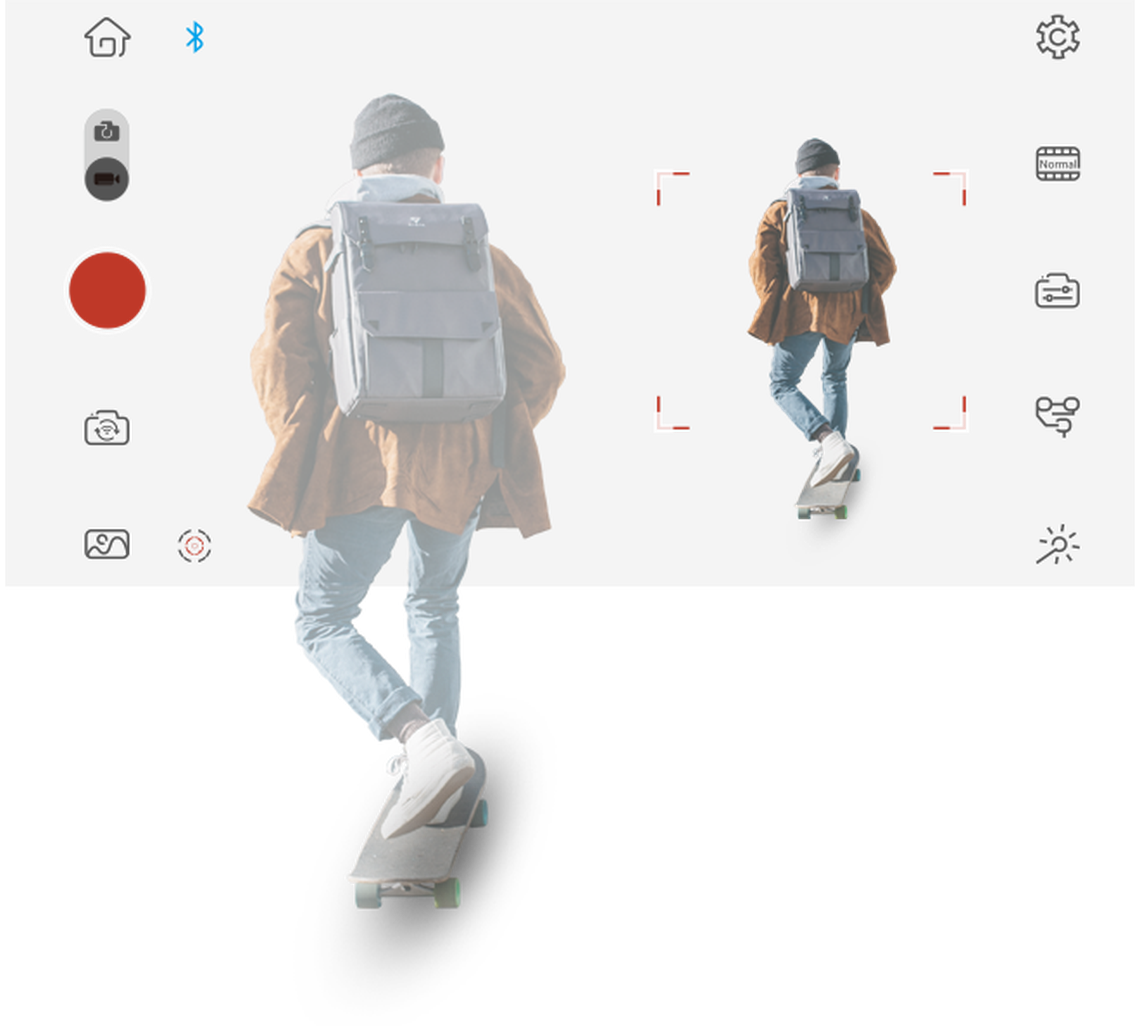 TWO WAY CHARGING WITH LONGER RUN TIME
The battery indicator tells you how much power is left. The stabilizer can charge your phone directly
during shooting.You can shoot video all day long with no need to worry about the battery.It adopts the
mainstream Type C charging port so that users can use both ends of the cable for charging.The stabilizer
can be charged by portable power source and the phone can be charged by the stabilizer via USB port
on tilt axis. The two way charging can happen at the same time, guaranteeing the longest operation
time possible.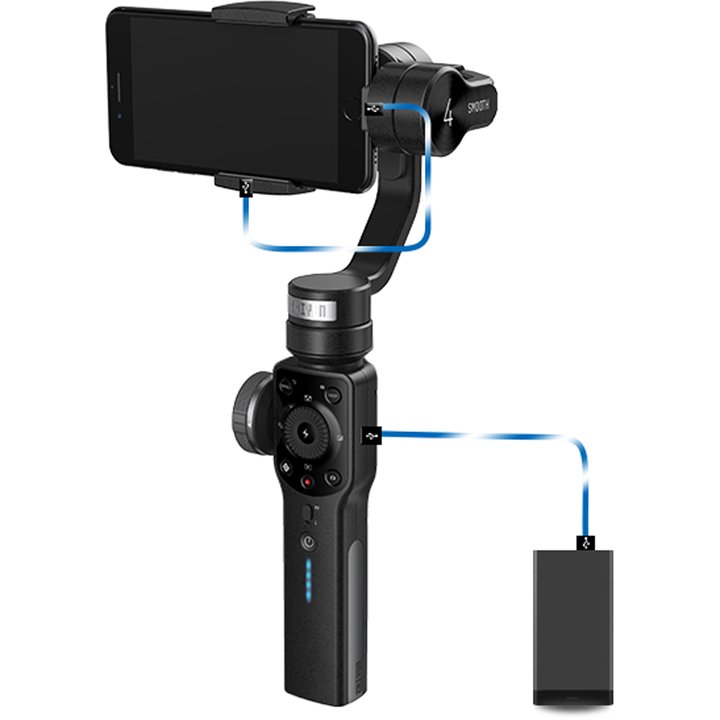 ALWAYS POWERFUL AND COMPATIBLE TO ALL PHONE
The motor power of Smooth 4 has increased by a large extent, making it compatible to phones of all sizes.In the meantime,
it can be used together with many accessories such as LED light and camera lens.
Smooth 4 is versatile in different environments,releasing the potential of phone camera anywhere,any time.
LESS IS MORE
Smooth 4 is designed with a slider on its control panel and a trigger button on its back,
to easily recognize and switch between different gimbal modes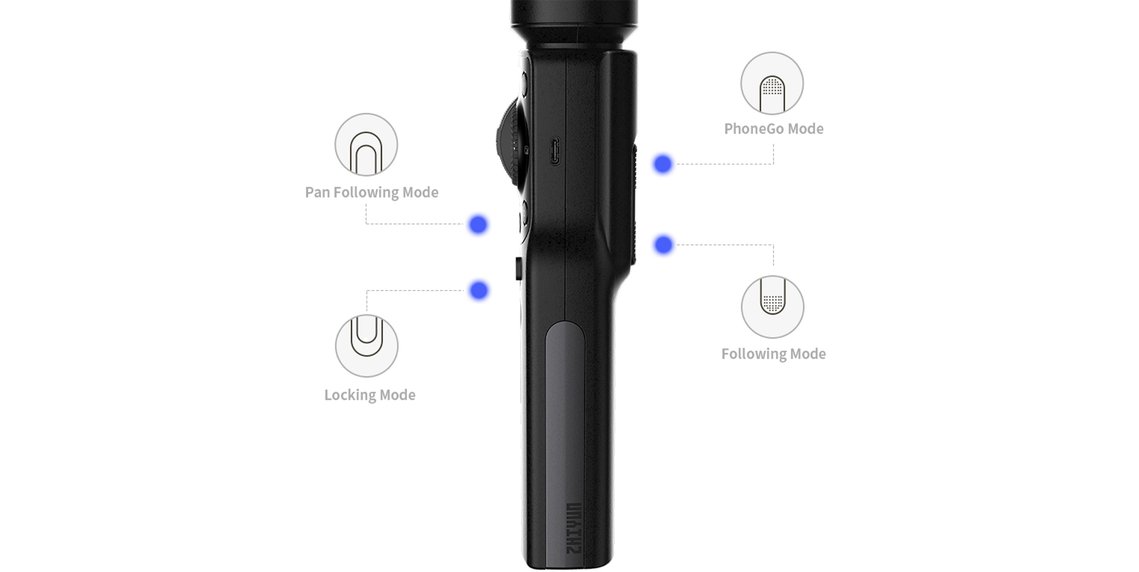 ZY Play
---
ZY Play for IOS 2.6.6
Version iOS 9.0 or Higher
be compatible with the following equipments:
iPhone XS Max,iPhone XS,iPhone XR,iPhone X,iPhone SE,iPhone 8 Plus,iPhone 8,iPhone 7 Plus,iPhone 7,iPhone 6s Plus,iPhone 6s,iPhone 6 Plus,iPhone 6
---
ZY Play for Android 1.13.10
Version Android 5.0 or Higher
be compatible with the following equipments:
Google --------- Pixel XL, Pixel 2 XL, Pixel 2, Pixel, Nexus 6P, Nexus 6, Nexus 5X
Samsung --------- Galaxy S9 Plus, Galaxy S9, Galaxy S8 Plus, Galaxy S8, Galaxy Note 8
Huawei --------- P9, P20 Pro, P10 Plus, P10, Mate 9, Mate 8, Mate 10 Pro, Mate 10
Oneplus ---------- 6, 5T, 5, 3T, 3
Xiaomi -------- Redmi Note 4X, Redmi Note 3, MI 6, MI 5s, MI 5, MI 4
Lge --------- G6, G5
Smartisan ------- U1 Pro, Nuts Pro 2
Oppo ------- R9s, Find X
Vivo ----- X7, NEX
*Support list of this device will becontinuously updated.
**Functions not available on all devices.
---
Stabilizer
---
Tilt Mechanical Range: Standard: 240 °
---

Roll Mechanical Range: Standard: 240 °
---

Valid Payload: Max: 210 g
Min: 75 g
---
Battery
---
Operation Voltage Standard: 7.4 v
---
Output Voltage Standard: 5 v
---
Operation Temperature Max: 45 °C
Standard: 25 °C
Min: -10 °C
---
Battery Runtime Standard: 12 h
Laboratory data1
---

Charging Time Standard: 3.5 h
2000mA 500mA
Laboratory data2
---
Packing List
---
Stabilizer 1
---
type C USB Cable 1
---
User Guide 1
Storage Box 1
---
TRM03 Tripod 1
---